Battery Charger for Lotus Blake
Are you looking for an electric scooter battery charger?
At Mobility Scooters for Hire Sales Service, we understand that keeping your mobility scooter charged and ready for use is crucial for maintaining your independence and mobility. That is why we offer a wide range of mobility scooter chargers to ensure that you always have a reliable power source for your electric scooter. When you choose our mobility scooter chargers, you can trust that we prioritise quality, compatibility, and convenience.
Electric Scooter Charger
Our mobility scooter chargers are designed to be compatible with a wide range of electric scooters. Whether you have a specific scooter model or a different brand, we have chargers that will suit your needs. Our chargers come with different voltage and connector options to ensure proper compatibility. Check out our scooter chargers today.
Montana and Tycoon AZ36
Automatic 7 stage 36V 3A deep cycle e-bike battery charger with display Mobility Scooters Battery Chargers for AGM, GEL, Batteries. We specialise in MOBILITY SCOOTER AGM and GEL Battery Chargers Mobility Scooters for Hire, Specialising in the supply of 12-48 Volt Lead Acid Battery and lithium Ion Chargers for use in mobility scooters, electric wheelchairs, scooters and other electric mobility devices for both Lead Acid AGM and Gel type deep cycle batteries, and Lithium Ion batteries.
SPECIFICATIONS :
PGBD 36V 3A
Input Voltage 110VAC OR 220VAC, 50-60HZ
Charging Voltage 58.8V or adjust to battery's specification
Charging Current 3A (MAX)
Ambient Temperature 0°C TO +40°C
Cooling Fan cooling
Charger Type 7-step,full automatic switch mode,(reverse) pulse charging
Appropriated Battery 36V lead acid battery, AGM, AGL, GEL
Battery Capacity 10-30AH
Dimensions 176*77*60mm
Net Weight 0.85 kg
Shipping Details 1kg 24x14x8cm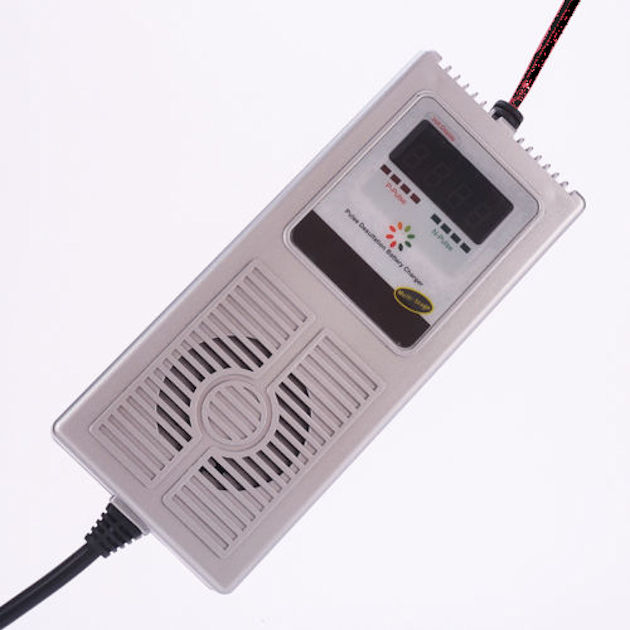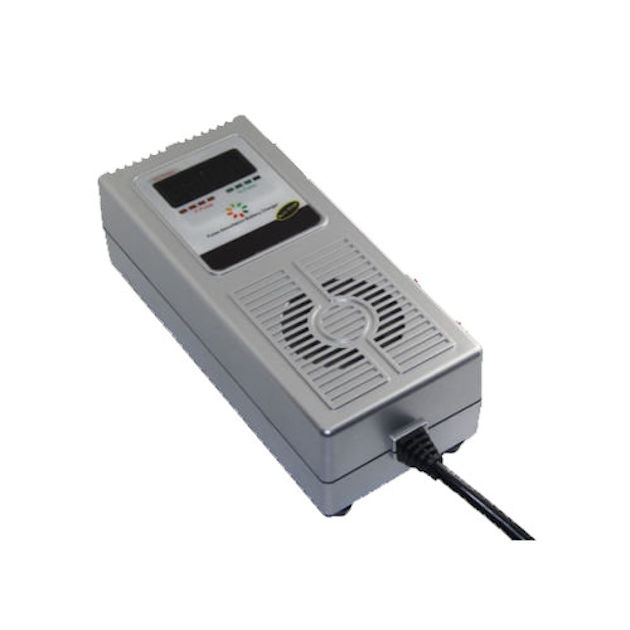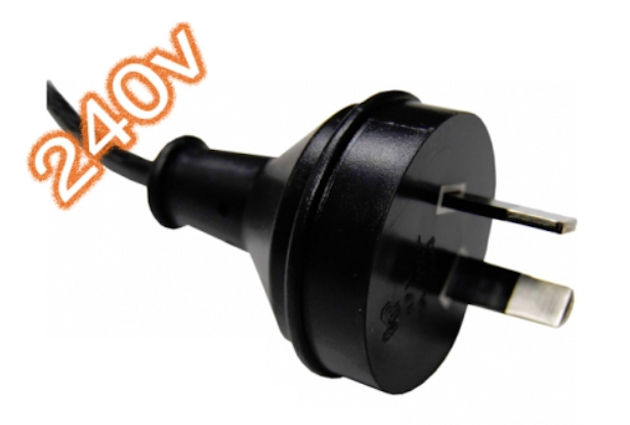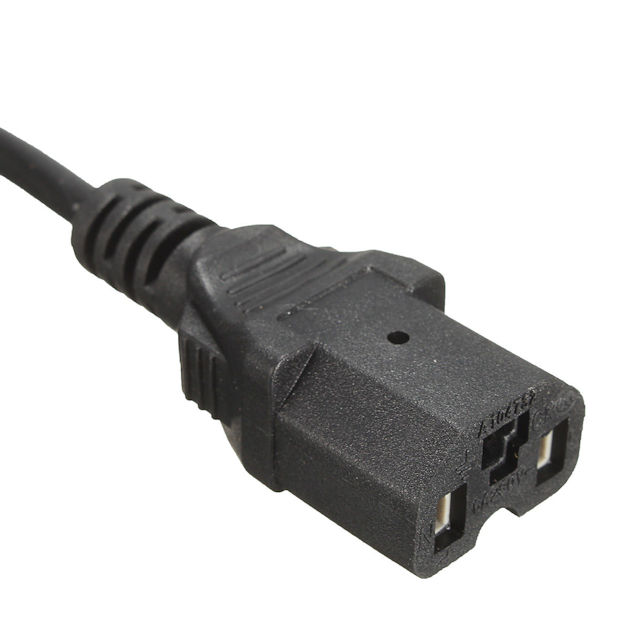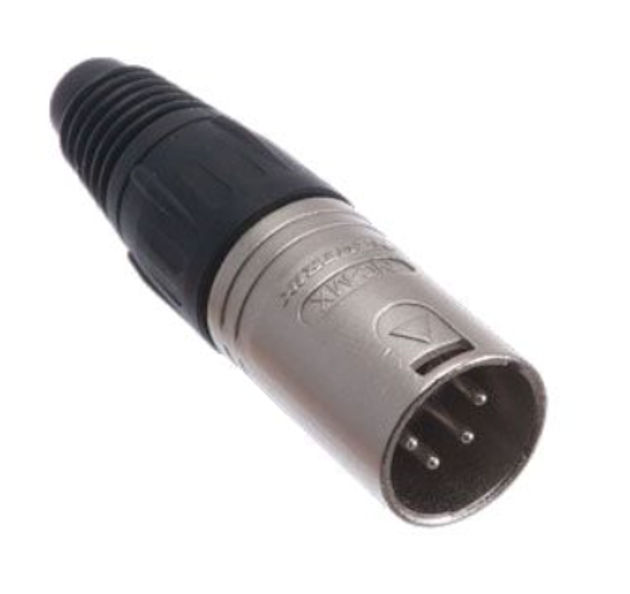 Main Features:
1. Automatic Charging MCU system is applied. The whole charging process is monitored. Multi-stage charging is automatically proceeded. Automatically stops charging when the battery is full. You can leave the charger connected to the battery indefinitely without the risk of overcharging; Once the battery is full, the charger monitors the battery voltage and intermittent to float charging the battery if the capacity of your battery lower than our charger's digital preset.
2. Compact and convenient, small and light as switch mode technology, or called Switching Power Supply, this is different from Linear Power using in traditional charger. More than 85% electric energy is transferred to battery chemical energy during charging process comparing with 40% of conventional magnetic coil charger. The technology is suitable for all types of batteries (wet, maintenance free, VRLA, AGM, etc)
3. Digital Display and More Protection. Voltmeter and Ammeter will show battery's voltage and current on display screen. LED indicators will show pulse and reverse pulse charging as well as how much charged. Polarity Protection – Prevents the output leads from sparking due to accidental reverse connection or short circuit, Overcharge Protection – never worry about overcharging as charger automatically stops when battery is full. High Temperature Protection – If charger itself gets too high temperature, it will automatically lower its temperature, even stopping working so that charger is well protected.
4. Maintain battery and recover of capacity if possible. Pulse and Reverse pulse charging technology is applied. The charger generates pulse and reverse pulse to reduce battery impedance, gassing and temperature rise, restore the sulfate into liquid to recover battery capacity. So that the charger can maintain battery and prolong its lifetime.
5. CE and RoHS Certification
7 Stage automatically charging:
1—Desulfation: The desulfation  stage may break down sulphation that occurs in batteries that have been left flat  for extended periods of time, returning them back to full charge. sulphation  occurs when lead-sulphate hardens and clogs up the battery cells.
2—Soft-Start: A preliminary charge  processes that gently introduces power to the battery. This protects the battery  and increases  battery life.
3—Bulk (Constant Current): bulk  mode charges the battery at the maximum rate (constant current)putting a large  amount of power into  the battery in a short amount of time. This stage will  charge the battery to approximately 80%, until the voltage reaches 14.4 volts  for 12V battery or 28.8volts for 24V charger.
4—Absorption (Constant Voltage): the  charge rate slows down so the battery can absorb more power and reach 100%  charge. The  voltage remains at a constant 14.4 volts for 12V charger or 28.8  volts for 24V charge while the current is gradually reduced until no more   power  can be added without over-charging the battery.
5—Battery Test: an automatically  battery test is conducted immediately after the absorption stage. The test  monitors the voltage for 90 seconds to determine if the charge was successful.
6—Recondition: The battery  reconditioning function is initiated automatically in the case that the battery  fails the battery test (stage 5). Failing the battery test indicates that the  absorption stage was unable to fully charge the battery. The recondition mode  will then begin to introduce a low constant current for a period of 4 hours.  Then the charger will go into the float charging mode. This recondition stage  can recover batteries from a deeply discharged state increasing performance and  battery life.
7—Float: the float stage maintains  the battery at 100% charge without overcharging or damaging the battery. This  means the charger can be left connected to the battery indefinitely.
* Freight FREE to your door by courier
†* 36V B3603 charger / plug for Lotus Blake Montana
NOTE : All chargers sold meet ISO standards, suitable for charging all VRSLA AGM and GEL batteries.
PGBD battery chargers are covered by 3 months unconditional warranty.
STANDARDS
CE and RoHS Certification
TECHNICAL UNDERSTANDING
Read this to understand about mobility scooter batteries and battery charging technology
Price Includes Postage / Freight if required.Specialising lead acid AGM and GEL deep cycle batteries and battery chargers.
Phone : 03 7036 4440 Email Mobility Scooters for Hire