This is to certify that your TOP GUN MOBILITY product offers a limited 5 Year Warranty from the date of original purchase.Should a defect or operating fault arise within this period the Dealer, from where the product was originally purchased, should be notified immediately. Failure to register the fault may invalidate the warranty.The Dealer from where the product was purchased is responsible for any warranty repairs.The Dealer from where the product was purchased is responsible for any warranty repairs.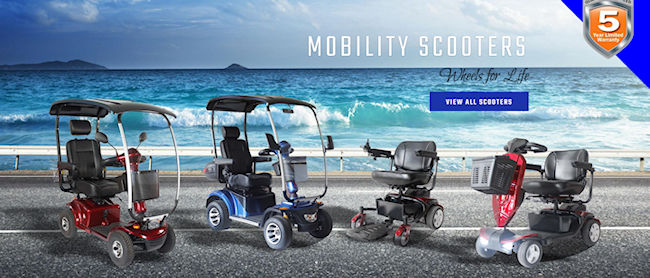 Top Gun Mobility warrants that if a fault occurs within this period due to faulty workmanship or materials that the product will be repaired (or replaced at the Company's discretion) free of charge.
Any unauthorised modifications will invalidate the warranty.
Component parts replaced outside this period carry a six-month warranty. (Standard terms and conditions apply for this period)
FIVE-YEAR LIMITED WARRANTY
Structural frame components, including: platform, fork, seat post, and frame welds. Drivetrain, including: differential, motor, and brake.
THREE-YEAR LIMITED WARRANTY
Your Top Gun Mobility Scooter is fully guaranteed for three (3) years from the date of purchase against faults arising due to defects in manufacture or materials. This warranty does not detract from, but is in addition to your legal rights.
All electronic parts, including controllers and battery chargers, have a one (1) year warranty. Servicing to the controller or battery charger must be carried out by your authorised Top Gun Mobility Provider. Any attempt to open or dismantle these items renders the guarantee void on that item.
NOT COVERED UNDER WARRANTY
The guarantee goes not extend to those items which may need replacement due to normal wear and tear (tyres, belts, bulbs, upholstery, plastic shrouds, motor brushes, fuses, and batteries), or damage to the product caused by misuse or accident for which Top Gun Mobility or its agent cannot be held responsible. This warranty does not include labour or service calls.
WARRANTY SERVICE PERIOD
The service intervals are every 1500km or every twelve (12) months from date of purchase, whichever occurs first. We recommend using a Top Gun Mobility Service Provider. Proof of annual service (paid invoice receipts) must be kept and provided upon any warranty claim.This warranty will be void if annual servicing is not carried out.
SERVICE CHECKS AND WARRANTY SERVICE
Warranty service can be performed by an authorised Top Gun Mobility Provider. Please contact your authorised Top Gun Mobility Provider for advice on the current cost affecting the service visit.
STORAGE INSTRUCTIONS
Always store in a dry area protected from freezing to avoid damage to the scooter and premature wear of the batteries.
Avoid exposure to rain, snow, ice, salt or stagnant water. Keep your scooter clean and dry.
Never expose the electronic components of the scooter to humidity (rain, snow, mist, or water from washing), as it may damage electronic circuits.
Always store your scooter with batteries fully charged. When storing the scooter for more than two weeks, charge the batteries and disconnect them.
During the storage, check the charge once a month and recharge the batteries as needed. You must complete a full charge cycle every month or damage to batteries can occur.
Avoid extreme temperature of hot and cold during storage. Freezing can damage low charged batteries and they may become unusable.
DISTRIBUTOR WARRANTY CLAIM PROCESS
In the unlikely event your client experiences a Warranty issue with their Top Gun Mobility Scooter please following the below process;
Assess mobility scooter to establish the failure and reasons behind said failure
Take photos/video of the failed component
Complete a Warranty Claim (Dealer Authorisation) Form and send to [email protected] along with documented proof of the failure
Once your claim has been assessed you will be given an Authorisation number to proceed with repairs
At ANY stage of this process should you have any questions, please do not hesitate to contact our staff for guidance.
NB: Warranty Claim forms are available on the Dealer Portal